Trainers are great, but there are some awesome race training apps out there that do not cost $50+ per session. Even better, most of the race training apps are free! These apps are great for people who may not want to join a group-run training system. In fact, I have used most of the apps with better results than any group run! Get your running shoes ready - these race training apps are sure to get you motivated to move!
---
1

Run 5k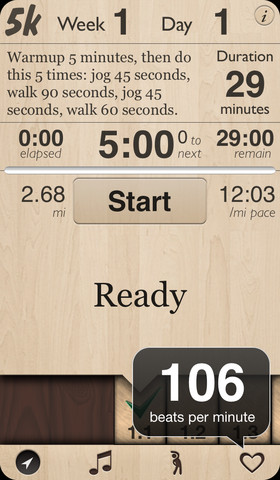 itunes.apple.com
Let's start with an app that helps with the first race most people ever run: a 5k. Run 5k was the first race training app that I ever downloaded. Although I was not training for a race, I wanted to get into running and did not want to commit/embarrass myself completely with a running group. It did the trick. In eight weeks I was running over three miles a day in under twelve minutes per mile! Starting was simple and it never felt like too much for me. This app is a must try for any new runner.
2

10k Free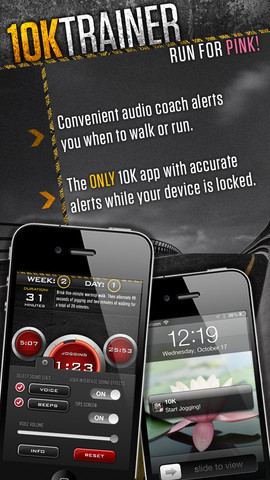 itunes.apple.com
10k Free was created by Zen Labs and is the app I am currently using. The app takes you from not running at all to running over six miles in fourteen weeks. With 10k, you run that week's interval three days of the week. I love this because it lets me continue my usual workout routine the other 2-3 workout days of the week. The app also rewards you with shopping coupons at the end of workouts. Will run for shopping!
---
3

Seconds Pro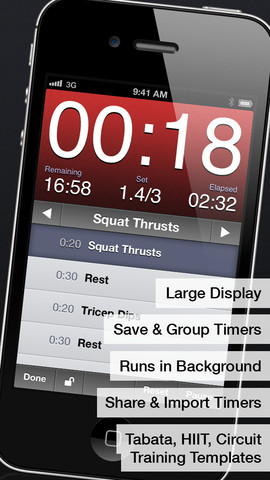 itunes.apple.com
Seconds Pro is not a race training app in the way the others have been. This app is an interval timer. With Seconds Pro you can create interval timers for your interval workouts. It has neat-o bonuses like a right side/left side time split for use outside of running, and will save your workouts. The countdown interface on this app is pretty cool too. No sense having to workout with an ugly app!
---
4

Map My Run Training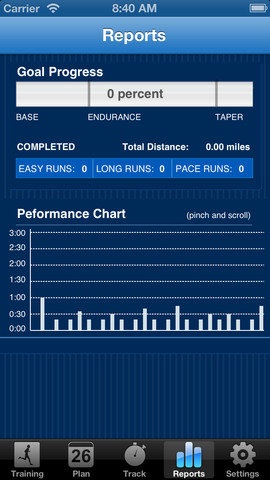 itunes.apple.com
Map My Run is one of the best free apps ever. Seriously, it actually won the title of Best Running App back in 2012. This app has everything from GPS tracking to multiple running plans per race. One of the neatest things about this app is that you set how many days you want to train per week and the training end date. The app takes care of formulating a running plan from what you want to accomplish and when! MMRT also keeps a back log of your workouts and has a nutritional section. Seriously, best app ever.
---
5

Zombies, Run!

itunes.apple.com
This app is a bit more fun than your usual running coach. In Zombies, Run! your goal is to run fast enough that you are able to collect supplies and out run the zombies. This is the only running app I know of that puts you into a story. Zombies, Run! has multiple types of runs and each comes with a back story. But wait, there's more! Zombies, Run! is also a game to be played when your running shoes come off.
6

Run Training

itunes.apple.com
This is not the prettiest app in the world, but it does the job very well. Run Training has a great GPS interface and has training modes ranging from 5ks to marathons. There is also a calendar inside the app so you know which days you are running and which you are not. The display will show you pace, distance remaining, and the steps left in your routine. Like most running apps, this one will also give audible cues for changing your pace and will play them over your music.
---
7

SmartRunner

This app has something that I have not yet seen on any other running app: a forecast. Yes, you can see whether or not you will be running in the rain in the app. I am not sure why I am so entertained by this, but I simply love it. SmartRunner also has routine and activity selectors so you can use the app for more than running alone. Routines will be archived and calories burned will be shown as well. Someone please let me know if their workout options are in German like mine. Maybe it is a language trainer as well...

Whether I am training for a race or not, I have found racing apps to help keep me on track and get me to my fitness goals. Trying new workout apps is also a fun way to mix things up. These are some of my favorite workout apps to use, especially since most are free! What are some of your favorite workout apps?
---
Comments
Popular
Related
Recent